I believe all children have the potential to be the next latest and greatest scientific inventor, but they just need to get things started. Holistic learning and hands-on approaches to teaching complex ideas make the difficult a lot less so. Absorbing information and fine-tuning their ability to sit and focus on one project will help set the foundation for them to become able to learn in a coherent and disciplined way, while also being fun.
It takes about a week for the crystals of this rock candy experiment to form, but once they have you'll be able to eat the results! After creating a sugar solution, you'll fill jars with it and dangle strings in them that'll slowly become covered with the crystals. This experiment involves heating and pouring boiling water, so adult supervision is necessary, once that step is complete, even very young kids will be excited to watch crystals slowly form.
If you do this sidewalk constellation craft, you'll be able to see the Big Dipper and Orion's Belt in the daylight. On the sidewalk, have kids draw the lines of constellations (using constellation diagrams for guidance) and place stones where the stars are. You can then look at astronomy charts to see where the constellations they drew will be in the sky.
Ever got an electric shock off something? Demonstrate the science behind the shocks with this jumping frogs experiment. With just a balloon, some sugar paper and a woolly jumper, you'll have frogs leaping in no time demonstrating the power of static electricity. It doesn't have to be frogs either, let your imagination run wild to create some other jumping stars of this easy science experiment!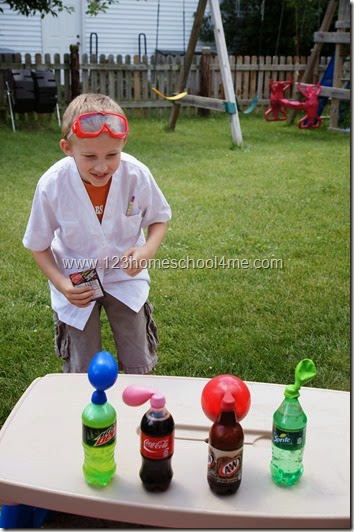 Homemade Kits – There are probably loads of objects around your home already, which can be used to set up your own science experiments. These include things like salt, baking soda, vinegar, soap, cornstarch and of course food dye to make things more interesting! You'll also need some basic equipment like tweezers, ramekins or small tubs, a funnel and a dropper for example. There are too many home science experiments to discuss here, but with these basic supplies you'll find you can perform some really cool experiments to amaze the kids!
While The Big Bag of Science included some fun chemistry experiments, My First Mind Blowing Science Kit focuses solely on chemistry and chemical reactions. Want to witness a sunset in a test tube? What about a color-changing (or even underwater) volcano? This kit includes ingredients your child will need to conduct these colorful experiments over and over again—or at least until the powders, polymers, and oils run out.
These sound like big words for our little ones, but there's an easier way to break it down. Water and oil won't mix because they're not the same "weight" or substance (just like clay and LEGOs won't become one). Now add a drop of food coloring (which is heavier than oil) and a fizzy tablet and watch the air bubbles take coloring with them to the top. Head on over to S. L. Smith's blog to see how it's done. 

Your whistler has the basics of air pressure down just by using their mouth to blow. And now you can amaze them with this egg-cellent experiment. There is a little fire play involved (dropping a lit paper into the bottle), but that's what causes the unbalanced air pressure, which pushes the egg into the bottle. Want to test it out? Head over to The Scientific Mom and get the step by step.
Find out how plants "drink" water with some food coloring. Use carnations, roses, or stalks of celery submerged in the colored water and watch the liquid slowly seep through the plant's "veins" and towards the leaves. Keep an eye out -- you could have a very colorful bouquet just after the first day. Get the rundown by Dad's Book of Awesome Science Experiments over here.
This simple experiment teaches kids about inertia (as well as the importance of seatbelts!). Take a small wagon, fill it with a tall stack of books, then have one of your children pull it around then stop abruptly. They won't be able to suddenly stop the wagon without the stack of books falling. You can have the kids predict which direction they think the books will fall and explain that this happens because of inertia, or Newton's first law.
Penguins, and many other birds, have special oil-producing glands that coat their feathers with a protective layer that causes water to slide right off them, keeping them warm and dry. You can demonstrate this to kids with this penguin craft by having them color a picture of a penguin with crayons, then spraying the picture with water. The wax from the crayons will have created a protective layer like the oil actual birds coat themselves with, and the paper won't absorb the water.
Kids will love shooting pom poms out of these homemade popsicle stick catapults. After assembling the catapults out of popsicle sticks, rubber bands, and plastic spoons, they're ready to launch pom poms or other lightweight objects. To teach kids about simple machines, you can ask them about how they think the catapults work, what they should do to make the pom poms go a farther/shorter distance, and how the catapult could be made more powerful.
Ah, slime. It's the one thing that parents across the UK have been being pestered to make, so why not turn it into a science activity? For our concoction, we mixed shaving foam, PVA glue and a little bit of air freshener (fabric conditioner can work too!), to create a slime that you can swirl, stretch and crack, providing hours of fun. Try changing the quantities to see how the mixture changes, and ask the kids to explain the differences.