I believe all children have the potential to be the next latest and greatest scientific inventor, but they just need to get things started. Holistic learning and hands-on approaches to teaching complex ideas make the difficult a lot less so. Absorbing information and fine-tuning their ability to sit and focus on one project will help set the foundation for them to become able to learn in a coherent and disciplined way, while also being fun.
This simple experiment teaches kids about inertia (as well as the importance of seatbelts!). Take a small wagon, fill it with a tall stack of books, then have one of your children pull it around then stop abruptly. They won't be able to suddenly stop the wagon without the stack of books falling. You can have the kids predict which direction they think the books will fall and explain that this happens because of inertia, or Newton's first law.
Education and science go hand-in-hand and one without the other is a sad time for any child indeed. There are loads of ways to get your children into science and the sooner the better. One way is to have fun with scientific experiments that use hands-on learning techniques. The hands-on approach is ideally what young scientists want to do and the less theory the better, especially when they are so young. 

This is an easy experiment that'll appeal to kids of a variety of ages. Just take a zip-lock bag, fill it about ⅔ of the way with water, and close the top. Next, poke a few sharp objects (like bamboo skewers or sharp pencils) through one end and out the other. At this point you may want to dangle the bag above your child's head, but no need to worry about spills because the bag won't leak? Why not? It's because the plastic used to make zip-lock bags is made of polymers, or long chains of molecules that'll quickly join back together when they're forced apart.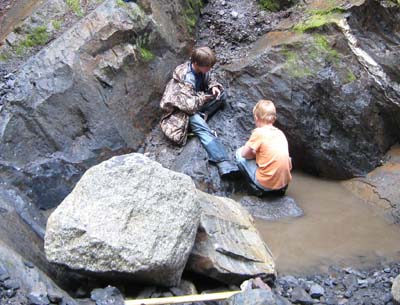 If your kids are curious about how animals like polar bears and seals stay warm in polar climates, you can go beyond just explaining it to them; you can actually have them make some of their own blubber and test it out. After you've filled up a large bowl with ice water and let it sit for a few minutes to get really cold, have your kids dip a bare hand in and see how many seconds they can last before their hand gets too cold. Next, coat one of their fingers in shortening and repeat the experiment. Your child will notice that, with the shortening acting like a protective layer of blubber, they don't feel the cold water nearly as much.
There are many fun ways to get your children into natural science and Geodes are one way. This starter kit has 7 unique and fascinating ways to get discovered the mystery of the earth crust. Geodes are natural and a wonder to many who like to collect, but even as a one-off this is a great way to get kids thinking. This is fun and the breaking aspect always makes things interesting for those that need some initial enthusiasm.
Each of our crates presents kids with a multi-faceted experience that can last for hours, or even days! Our crates include a magazine with additional science experiments and activities, and lots of rich content to dig deeper into the theme. We also provide online resources and video content for every project, all designed to allow kids to explore further.
Koala Crate is our line of science kits for kids ages 3-4. Introducing science and math to preschoolers may seem early, but in fact, it is crucial to building a strong foundation in STEM — science, technology, engineering, and math. Our crates introduce young learners to concepts like physics — through the science of rainbows — and biology — through learning about animals like reptiles and marine life.
The kitchen can be an ideal place for performing science experiments, with an adult's help. For instance, with a few stalks of celery and some food coloring, you can watch capillary action happen almost before your eyes. Capillary action describes what happens as plants move water up from their roots to their leaves. Get four stalks of celery and cut off the bottoms so each stalk is 10 inches long. You'll also need four identical cups, each filled with a half-cup of cool water. Decide what color you want to make the water, and then add the same number of drops of food coloring to each cup of water. Stir the water well with a spoon. Place one stalk of celery into each cup. After two hours, remove one stalk and label this one "two hours." After four hours, remove another stalk and label it the same way. Do the same with the next stalk at six hours and the final stalk at eight hours. After you finish, compare the celery stalks to see how each one changed color, depending on how long it was in the colored water.
Find out how plants "drink" water with some food coloring. Use carnations, roses, or stalks of celery submerged in the colored water and watch the liquid slowly seep through the plant's "veins" and towards the leaves. Keep an eye out -- you could have a very colorful bouquet just after the first day. Get the rundown by Dad's Book of Awesome Science Experiments over here.
Scientific Explorer My First Mind Blowing Science Kit is your junior chemist's introduction to the world of scientific exploration. Learn the basics of science from chemical reactions to the use of science tools. With mind blowing experiments such as creating a sunset in a test tube and making a color-changing volcano, children will love learning fascinating facts about their natural world and this kit will keep them engrossed with interactive experiments. Includes Red cabbage powder, citric acid, baking soda, 3 color tablets, crosslinked polyacrylate copolymer, vegetable oil, corn starch, 2 cotton swabs, 3 test tubes with stand, 3 plastic cups, pipette, 2 sticks, 2 measuring scoops and activity guide. Recommended for children 6 years of age and older with adult supervision.
Insert a little plant science into the mix by re-growing food from scraps. Think onions, potatoes, and lettuces for this one (psst… green onions are a super easy, fast option). Get the low down on all that recycled goodness at Mrs. Happy Homemaker. Since plants need water and sunlight to grow, exposing scrap roots to that winning combo helps them recharge.
By creating an articulated hand model, you can teach kids about bones, joints, and how our hands are able to move in many ways and accomplish so many different tasks. After creating a hand out of thin foam, kids will cut straws to represent the different bones in the hand and glue them to the fingers of the hand models. You'll then thread yarn (which represents tendons) through the straws, stabilize the model with a chopstick or other small stick, and end up with a hand model that moves and bends the way actual human hands do.
Wonderful ideas! As a former science teacher, science department chair and system-wide science supervisor,; I salute you! It is mothers like you who keep the spark of investigation going in the eyes of our children. I love, love love hands-on science! You are training the scientists of tomorrow…or maybe the artists…doesn't matter, we need both! Suggestion: let them see how many drops of water they can get on a penny. All you need is a penny, a medicine dropper and water. Oh, and a very steady hand and table that doesn't shake. Then fill a jar with water (almost to the top) and predict how many pennies they can put in until the water overflows. Good lesson in surface tension and cohesion. You will need a steady hand, sturdy surface and a lot of pennies! I have some others, but no enough space.
Kids this age will probably enjoy a whole range of different science kits. It's good to look for something which will help with what they are learning about at school. Pre-teens are becoming more and more independent, so it might be worth looking for an experiment kit which is simple enough for them to do alone, but still hard enough to keep them entertained and learning.
Kids ages 5-8 are at a crucial time in their understanding of science, math, and engineering. They're old enough to grasp how big ideas like the solar system and flight, things that perhaps once seemed magical, have scientific properties that allow us to explore outer space and build rocket ships. Kiwi Crate allows children in 1st, 2nd, and 3rd grade to begin a hands-on discovery of physics, chemistry, biology, and more, with fun projects that they can assemble themselves.
Any one of these simple science experiments for kids can get children learning and excited about science. You can choose a science experiment based on your child's specific interest or what they're currently learning about, or you can do an experiment on an entirely new topic to expand their learning and teach them about a new area of science. From easy science experiments for kids to the more challenging ones, these will all help kids have fun and learn more about science.
This grow-your-own experiment that lets you grow crystals inside an egg shell. Be sure to get alum powder that contains potassium, or else you won't get any crystal growth. Adding drops of food dye to the growing solution yields some super cool crystals. A perfectly formed geode takes about 12-15 hours to grow, making this a great weekend project. Check out more of Art and Soul's gorgeous eggs over at their blog!
With a combination of a solid fuel source and a liquid oxidizer, hybrid rocket engines can propel themselves. And on a small scale, you can create your own hybrid rocket engine, using pasta, mouthwash and yeast. Sadly, it won't propel much, but who said rocket science ain't easy? Check out this video from NightHawkInLight on how to make this mini engine.
Dry ice is already cool enough on its own (yes, pun intended) but it takes science to turn them a rad overflow of bubbles. When you add water, it changes the temperature of the dry ice, causing the ice to go from solid to gas. That's where the fog and bubbles come from! Head to crafty blog Simply Modern Mom to get the full tutorial. But be careful: Dry ice can cause serious skin burns, so make sure your kids are well supervised and know not to touch the ice.
Chemistry Kits – Perhaps the most classic of the science kit options, these are great for kids who are interested in learning about how things work. There is a huge range of kits in this bracket, ranging in features and suitability. There is a chemistry kit for just about any child, and with a bit of research it's easy to find one to suit your child's age and ability.