This solar energy science experiment will teach kids about solar energy and how different colors absorb different amounts of energy. In a sunny spot outside, place six colored pieces of paper next to each other, and place an ice cube in the middle of each paper. Then, observe how quickly each of the ice cubes melt. The ice cube on the black piece of paper will melt fastest since black absorbs the most light (all the light ray colors), while the ice cube on the white paper will melt slowest since white absorbs the least light (it instead reflects light). You can then explain why certain colors look the way they do. (Colors besides black and white absorb all light except for the one ray color they reflect; this is the color they appear to us.)
The kitchen can be an ideal place for performing science experiments, with an adult's help. For instance, with a few stalks of celery and some food coloring, you can watch capillary action happen almost before your eyes. Capillary action describes what happens as plants move water up from their roots to their leaves. Get four stalks of celery and cut off the bottoms so each stalk is 10 inches long. You'll also need four identical cups, each filled with a half-cup of cool water. Decide what color you want to make the water, and then add the same number of drops of food coloring to each cup of water. Stir the water well with a spoon. Place one stalk of celery into each cup. After two hours, remove one stalk and label this one "two hours." After four hours, remove another stalk and label it the same way. Do the same with the next stalk at six hours and the final stalk at eight hours. After you finish, compare the celery stalks to see how each one changed color, depending on how long it was in the colored water.
Insect hotels can be as simple (just a few sticks wrapped in a bundle) or as elaborate as you'd like, and they're a great way for kids to get creative making the hotel and then get rewarded by seeing who has moved into the home they built. After creating a hotel with hiding places for bugs, place it outside (near a garden is often a good spot), wait a few days, then check it to see who has occupied the "rooms." You can also use a bug ID book or app to try and identify the visitors.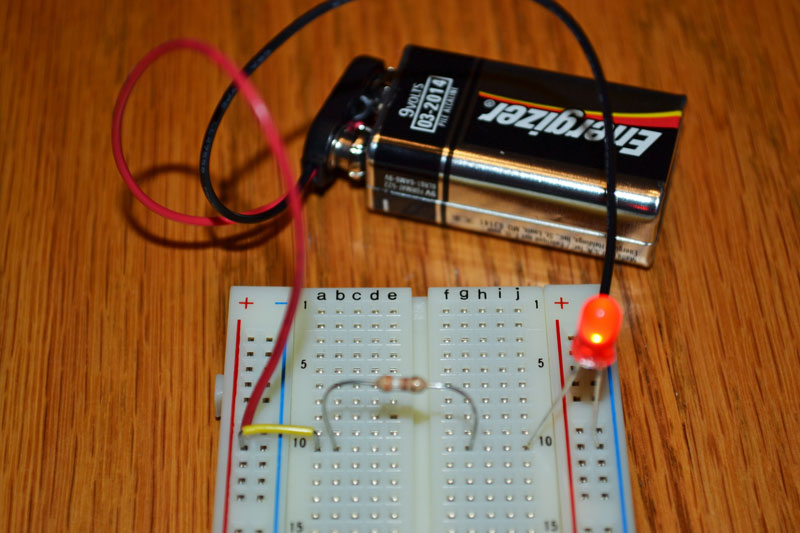 Every child has different tastes and interests, but the products shown here were consistently popular with kids of all ages. We researched and reviewed over a hundred science kits and kids science experiments (and yes, had way too much fun doing it) and selected the very best ones. So no matter what kind of science lab kit for kids you're looking for - we've got you covered!
Every child has different tastes and interests, but the products shown here were consistently popular with kids of all ages. We researched and reviewed over a hundred science kits and kids science experiments (and yes, had way too much fun doing it) and selected the very best ones. So no matter what kind of science lab kit for kids you're looking for - we've got you covered!
The word "oobleck" comes from a Dr. Seuss story where a young boy must rescue his kingdom from a sticky substance. But the neat part of this experiment is how oobleck reacts to vibrations. Put the oobleck over a subwoofer (on top a cookie sheet!) and watch it dance to difference frequencies. Your dancer will see how sound isn't just about volume! Check out more of this awesome experiment from Tammy of Housing a Forest.
This is an easy experiment that'll appeal to kids of a variety of ages. Just take a zip-lock bag, fill it about ⅔ of the way with water, and close the top. Next, poke a few sharp objects (like bamboo skewers or sharp pencils) through one end and out the other. At this point you may want to dangle the bag above your child's head, but no need to worry about spills because the bag won't leak? Why not? It's because the plastic used to make zip-lock bags is made of polymers, or long chains of molecules that'll quickly join back together when they're forced apart.
Understanding the different states of water is one of the most simple examples of a science experiment, but it's also a really great way to bring STEM activities into daily life. Kate combined her son's love of Batman with science, to create a character ice escape experiment. Using parent stealth mode, find some plastic toys to experience the big freeze and get to work. Let kids discover the tools they'll need to speed up the process and see how quickly they can set them free.
Kids ages 5-8 are at a crucial time in their understanding of science, math, and engineering. They're old enough to grasp how big ideas like the solar system and flight, things that perhaps once seemed magical, have scientific properties that allow us to explore outer space and build rocket ships. Kiwi Crate allows children in 1st, 2nd, and 3rd grade to begin a hands-on discovery of physics, chemistry, biology, and more, with fun projects that they can assemble themselves.
Find out how plants "drink" water with some food coloring. Use carnations, roses, or stalks of celery submerged in the colored water and watch the liquid slowly seep through the plant's "veins" and towards the leaves. Keep an eye out -- you could have a very colorful bouquet just after the first day. Get the rundown by Dad's Book of Awesome Science Experiments over here.
Penguins, and many other birds, have special oil-producing glands that coat their feathers with a protective layer that causes water to slide right off them, keeping them warm and dry. You can demonstrate this to kids with this penguin craft by having them color a picture of a penguin with crayons, then spraying the picture with water. The wax from the crayons will have created a protective layer like the oil actual birds coat themselves with, and the paper won't absorb the water.
Every child has different tastes and interests, but the products shown here were consistently popular with kids of all ages. We researched and reviewed over a hundred science kits and kids science experiments (and yes, had way too much fun doing it) and selected the very best ones. So no matter what kind of science lab kit for kids you're looking for - we've got you covered!
Lightning is essentially electrons moving uber fast between the sky and the earth—and with a few simple materials, you can use homemade static electricity (the reason behind your hair sticking up when you rub a balloon or go through a tunnel slide super fast) for DIY lightning. Figure how to recreate a family-friendly version of this spark by visiting activity blog Learn Play Imagine.
You've probably tried a salt crystal growing kit at some point in your life (5th grade Science Fair perhaps?) but Schooling a Monkey takes the idea to a new level with these Salt Crystal Feathers. This awe-inspiring project is deceptively simple and inexpensive to achieve, and requires just a wee bit of patience to see the results—kids will love checking in on the progress. Visit Schooling a Monkey now to get started.
I believe all children have the potential to be the next latest and greatest scientific inventor, but they just need to get things started. Holistic learning and hands-on approaches to teaching complex ideas make the difficult a lot less so. Absorbing information and fine-tuning their ability to sit and focus on one project will help set the foundation for them to become able to learn in a coherent and disciplined way, while also being fun.

This Rainbow Skittles science experiment can be done in seconds, making it a great way to try science at home even with the most easily distracted of toddler-sized assistant. All you'll need to do is arrange Skittles in a circle on a plate and fill the middle with warm water. Then sit back and watch as the colours drain and mix with the water, creating a cool rainbow pattern in front of your eyes. Plus, any bonus Skittles = a tasty treat for you.
Scientific Explorer's Mind Blowing Science Kit includes almost everything you need to set up exciting, colorful experiments with your young scientist. Included in this dynamic kit are the following components: red cabbage juice powder, citric acid, color tablets, polyacrylamide crystals, a pipette, small and medium scoops, and three plastic cups. Only basic supplies are required but not included, such as water, towels, a plate or tray to catch spills, and a stirring spoon. Although none of the experiments included in this kit are especially messy, each one should be done on a flat surface that can be easily wiped clean in case of spills.
The products listed here may contain small parts that are choking hazards for children! Toys can pose a hazard to babies and young children – they can choke, suffocate, or otherwise harm the child. Young children explore their world by putting things in their mouths, but children under three years of age do not have a well-developed coughing reflex and will choke easily on small items. All children, regardless of age, need close supervision with any toys to help prevent accidents from happening. Adult supervision is required at all times!
Another physics kit that is sure to interest your child if they enjoy the Engino Newton's Law Kit is the Klutz LEGO Chain Reactions Kit. This one teaches your kids about chain reactions and moving machines while also encouraging creativity and ingenuity by building their own. Plus it uses LEGO bricks they can play with when they're done experimenting.
There are a lot of science kits for kids out there, so it can be difficult to work out which brands are the best. Some of our favorites for realistic experiments include 4M and National Geographic. For younger kids, the Kids First brand has a lot of good value kits to choose from. The brand Sick Tricks is also a great choice for kids looking to impress their friends or parents with new tricks and experiments. For robotic science kits, Cozmo and LEGO are great options.
This is the most kid friendly and fun lab kit you can get. My kids are ages 2 and 4 and cannot get enough of this. Everything in the kit is high-quality, and this kit lasts a very long time. We have done these experiments over and over for 3 months and only recently have used an entire bag of something. I admit to even being impressed by how cool the activities are. This is worth every single penny. I will 100% be ordering another kit when we deplete all the things in ours.
Homemade Kits – There are probably loads of objects around your home already, which can be used to set up your own science experiments. These include things like salt, baking soda, vinegar, soap, cornstarch and of course food dye to make things more interesting! You'll also need some basic equipment like tweezers, ramekins or small tubs, a funnel and a dropper for example. There are too many home science experiments to discuss here, but with these basic supplies you'll find you can perform some really cool experiments to amaze the kids!

This experiment teaches kids about weather and lets them learn how clouds form by making their own rain cloud. This is definitely a science project that requires adult supervision since it uses boiling water as one of the ingredients, but once you pour the water into a glass jar, the experiment is fast and easy, and you'll be rewarded with a little cloud forming in the jar due to condensation.
Geode Kits – For any child who thinks rocks are boring – a kit where they can break open their own geode is a great way to change their mind. National Geographic is a great choice if this is the type of kit you are looking for. Their products include hand-picked geodes and come with safety goggles and a stand for your child to proudly display their treasures. A great choice for children aged around 6 years old and above, they're sure to be more interested in Earth science after this experiment.