Kids will love shooting pom poms out of these homemade popsicle stick catapults. After assembling the catapults out of popsicle sticks, rubber bands, and plastic spoons, they're ready to launch pom poms or other lightweight objects. To teach kids about simple machines, you can ask them about how they think the catapults work, what they should do to make the pom poms go a farther/shorter distance, and how the catapult could be made more powerful.
There are a lot of science kits for kids out there, so it can be difficult to work out which brands are the best. Some of our favorites for realistic experiments include 4M and National Geographic. For younger kids, the Kids First brand has a lot of good value kits to choose from. The brand Sick Tricks is also a great choice for kids looking to impress their friends or parents with new tricks and experiments. For robotic science kits, Cozmo and LEGO are great options.
Making a borax snowflake is a crystal-growing project that is safe and easy enough for kids. You can make shapes other than snowflakes, and you can color the crystals. As a side note, if you use these as Christmas decorations and store them, the borax is a natural insecticide and will help keep your long-term storage area pest-free. If they develop a white precipitant, you can lightly rinse them (don't dissolve too much crystal). Did I mention the snowflakes sparkle really nicely?
With just a package of Starbursts and a few other materials, you can create models of each of the three rock types: igneous, sedimentary, and metamorphic. Sedimentary "rocks" will be created by pressing thin layers of Starbursts together, metamorphic by heating and pressing Starbursts, and igneous by applying high levels of heat to the Starbursts. Kids will learn how different types of rocks are forms and how the three rock types look different from each other.
This light refraction experiment takes only a few minutes to set up and uses basic materials, but it's a great way to show kids how light travels. You'll draw two arrows on a sticky note, stick it to the wall, then fill a clear water bottle with water. As you move the water bottle in front of the arrows, the arrows will appear to change the direction they're pointing. This is because of the refraction that occurs when light passes through materials like water and plastic.

Can you make water float? We bet you can. No, you don't need to be a wizard or a witch. You don't need to cast a spell. There's nothing magic about it at all, in fact. You can make water float using good, ol' fashioned, awesome science. The "trick" to this experiment is air pressure. Get everything you need and the how-to, right here, thanks to Mike Adamick and his book, Dad's Book of Awesome Science Experiments.

Sometimes classroom learning leaves out the fun and resources and funding limit the options, especially with crowded classrooms. This is why here we aim to highlight the importance of one to one teaching and a good student comes usually from a patient teacher. Wisdom and guidance combined with excellent equipment could save lives in years to come and what seed is planted today with creating the foundation for life to come in the future.
Biology is an important area of science because it teaches us about our bodies and the environment around us. With this Thames & Kosmos Biology Genetics and DNA Kit, your child will jump into the world of heredity and variation of organisms by using a test tube to isolate tomato DNA. This in-depth kit is fun and it covers so many areas of biology that most kits don't cover.
If your kids are learning about genetics, you can do this edible double helix craft to show them how DNA is formed, what its different parts are, and what it looks like. The licorice will form the sides or backbone of the DNA and each color of marshmallow will represent one of the four chemical bases. Kids will be able to see that only certain chemical bases pair with each other.
Geode Kits – For any child who thinks rocks are boring – a kit where they can break open their own geode is a great way to change their mind. National Geographic is a great choice if this is the type of kit you are looking for. Their products include hand-picked geodes and come with safety goggles and a stand for your child to proudly display their treasures. A great choice for children aged around 6 years old and above, they're sure to be more interested in Earth science after this experiment.

Find out how plants "drink" water with some food coloring. Use carnations, roses, or stalks of celery submerged in the colored water and watch the liquid slowly seep through the plant's "veins" and towards the leaves. Keep an eye out -- you could have a very colorful bouquet just after the first day. Get the rundown by Dad's Book of Awesome Science Experiments over here.
By mixing just flour, salt, and water, you'll create a basic salt dough that'll harden when baked. You can use this dough to make homemade dinosaur bones and teach kids about paleontology. You can use books or diagrams to learn how different dinosaur bones were shaped, and you can even bury the bones in a sandpit or something similar and then excavate them the way real paleontologists do.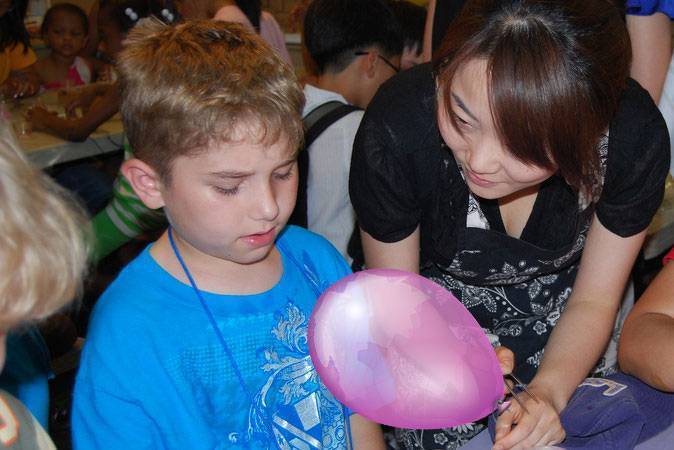 This mechanical weathering experiment teaches kids why and how rocks break down or erode. Take two pieces of clay, form them into balls, and wrap them in plastic wrap. Then, leave one out while placing the other in the freezer overnight. The next day, unwrap and compare them. You can repeat freezing the one piece of clay every night for several days to see how much more cracked and weathered it gets than the piece of clay that wasn't frozen. It may even begin to crumble. This weathering also happens to rocks when they are subjected to extreme temperatures, and it's one of the causes of erosion.
The products listed here may contain small parts that are choking hazards for children! Toys can pose a hazard to babies and young children – they can choke, suffocate, or otherwise harm the child. Young children explore their world by putting things in their mouths, but children under three years of age do not have a well-developed coughing reflex and will choke easily on small items. All children, regardless of age, need close supervision with any toys to help prevent accidents from happening. Adult supervision is required at all times!
If you've ever wondered why someone can measure and pour ingredients into a bowl, mix them up, and then bake the batter in the oven to make a cake, you've thought about science. The process of mixing certain ingredients together and adding heat causes the ingredients to react and change. For example, baking powder or baking soda in a cake recipe will react with acidic or wet things in the batter to puff it up and make the cake light and fluffy. Scientists tested these reactions so many times that they learned what would happen every time. This is called experimentation, and you can do it, too.