This is an easy experiment that'll appeal to kids of a variety of ages. Just take a zip-lock bag, fill it about ⅔ of the way with water, and close the top. Next, poke a few sharp objects (like bamboo skewers or sharp pencils) through one end and out the other. At this point you may want to dangle the bag above your child's head, but no need to worry about spills because the bag won't leak? Why not? It's because the plastic used to make zip-lock bags is made of polymers, or long chains of molecules that'll quickly join back together when they're forced apart.
You don't need a storm to see lightning; you can actually create your own lightning at home. For younger kids this experiment requires adult help and supervision. You'll stick a thumbtack through the bottom of an aluminum tray, then stick the pencil eraser to the pushpin. You'll then rub the piece of wool over the aluminum tray, and then set the tray on the Styrofoam, where it'll create a small spark/tiny bolt of lightning!
This blood model experiment is a great way to get kids to visual what their blood looks like and how complicated it really is. Each ingredient represents a different component of blood (plasma, platelets, red blood cells, etc.), so you just add a certain amount of each to the jar, swirl it around a bit, and you have a model of what your blood looks like.
You won't want to do this experiment near anything that's difficult to clean (outside may be best), but kids will love seeing this "elephant toothpaste" crazily overflowing the bottle and oozing everywhere. Pour the hydrogen peroxide, food coloring, and dishwashing soap into the bottle, and in the cup mix the yeast packet with some warm water for about 30 seconds. Then, add the yeast mixture to the bottle, stand back, and watch the solution become a massive foamy mixture that pours out of the bottle! The "toothpaste" is formed when the yeast removed the oxygen bubbles from the hydrogen peroxide which created foam. This is an exothermic reaction, and it creates heat as well as foam (you can have kids notice that the bottle became warm as the reaction occurred).
If your kids are curious about how animals like polar bears and seals stay warm in polar climates, you can go beyond just explaining it to them; you can actually have them make some of their own blubber and test it out. After you've filled up a large bowl with ice water and let it sit for a few minutes to get really cold, have your kids dip a bare hand in and see how many seconds they can last before their hand gets too cold. Next, coat one of their fingers in shortening and repeat the experiment. Your child will notice that, with the shortening acting like a protective layer of blubber, they don't feel the cold water nearly as much.
Below are 37 of the best science projects for kids to try. For each one we include a description of the experiment, which area(s) of science it teaches kids about, how difficult it is (easy/medium/hard), how messy it is (low/medium/high), and the materials you need to do the project. Note that experiments labelled "hard" are definitely still doable; they just require more materials or time than most of these other science experiments for kids.
With just a package of Starbursts and a few other materials, you can create models of each of the three rock types: igneous, sedimentary, and metamorphic. Sedimentary "rocks" will be created by pressing thin layers of Starbursts together, metamorphic by heating and pressing Starbursts, and igneous by applying high levels of heat to the Starbursts. Kids will learn how different types of rocks are forms and how the three rock types look different from each other.
This grow-your-own experiment that lets you grow crystals inside an egg shell. Be sure to get alum powder that contains potassium, or else you won't get any crystal growth. Adding drops of food dye to the growing solution yields some super cool crystals. A perfectly formed geode takes about 12-15 hours to grow, making this a great weekend project. Check out more of Art and Soul's gorgeous eggs over at their blog!
But the point is, I had not done any of these experiments with my daughter until we got this box. This has everything in one box, with all the equipment-- including a stand for the test tubes, which another review didn't have for some reason. (And get a little bag superabsorbent polymers, too. Those little buggers are fun but somehow end up everywhere). It's fun, it's easy, there are some experiments that require patience, which is really good for this age group. We are most of the way through the kit, doing maybe three experiments a week, and now I am shopping for more kits. Because even though I have the equipment, the books, and the education to diy the whole thing... the kit is easy, fun, and we actually DO it.
A nature journal is a great way to encourage kids to be creative and really pay attention to what's going on around them. All you need is a blank journal (you can buy one or make your own) along with something to write with. Then just go outside and encourage your children to write or draw what they notice. This could include descriptions of animals they see, tracings of leaves, a drawing of a beautiful flower, etc. Encourage your kids to ask questions about what they observe (Why do birds need to build nests? Why is this flower so brightly colored?) and explain to them that scientists collect research by doing exactly what they're doing now.
You've probably tried a salt crystal growing kit at some point in your life (5th grade Science Fair perhaps?) but Schooling a Monkey takes the idea to a new level with these Salt Crystal Feathers. This awe-inspiring project is deceptively simple and inexpensive to achieve, and requires just a wee bit of patience to see the results—kids will love checking in on the progress. Visit Schooling a Monkey now to get started.
Penguins, and many other birds, have special oil-producing glands that coat their feathers with a protective layer that causes water to slide right off them, keeping them warm and dry. You can demonstrate this to kids with this penguin craft by having them color a picture of a penguin with crayons, then spraying the picture with water. The wax from the crayons will have created a protective layer like the oil actual birds coat themselves with, and the paper won't absorb the water.
It takes about a week for the crystals of this rock candy experiment to form, but once they have you'll be able to eat the results! After creating a sugar solution, you'll fill jars with it and dangle strings in them that'll slowly become covered with the crystals. This experiment involves heating and pouring boiling water, so adult supervision is necessary, once that step is complete, even very young kids will be excited to watch crystals slowly form.
This experiment is a great way for young kids to learn about static electricity, and it's more fun and visual than just having them rub balloons against their heads. First you'll create a butterfly, using thick paper (such as cardstock) for the body and tissue paper for the wings. Then, blow up the balloon, have the kids rub it against their head for a few seconds, then move the balloon to just above the butterfly's wings. The wings will move towards the balloon due to static electricity, and it'll look like the butterfly is flying.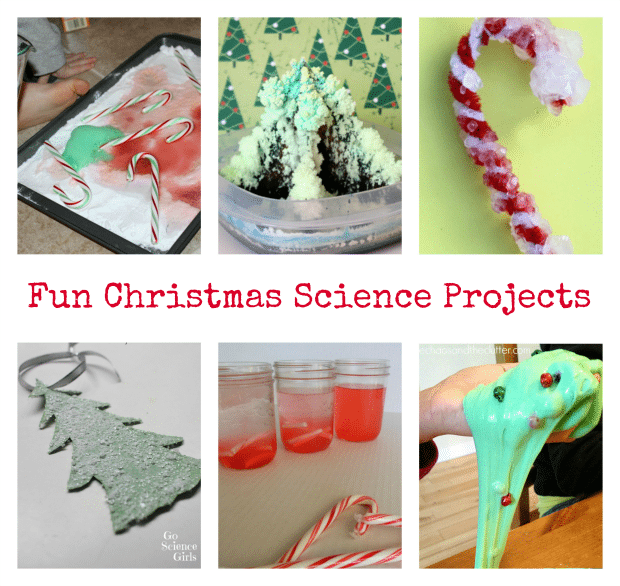 Insect hotels can be as simple (just a few sticks wrapped in a bundle) or as elaborate as you'd like, and they're a great way for kids to get creative making the hotel and then get rewarded by seeing who has moved into the home they built. After creating a hotel with hiding places for bugs, place it outside (near a garden is often a good spot), wait a few days, then check it to see who has occupied the "rooms." You can also use a bug ID book or app to try and identify the visitors. 

Scientific Explorer's Mind Blowing Science Kit includes almost everything you need to set up exciting, colorful experiments with your young scientist. Included in this dynamic kit are the following components: red cabbage juice powder, citric acid, color tablets, polyacrylamide crystals, a pipette, small and medium scoops, and three plastic cups. Only basic supplies are required but not included, such as water, towels, a plate or tray to catch spills, and a stirring spoon. Although none of the experiments included in this kit are especially messy, each one should be done on a flat surface that can be easily wiped clean in case of spills.
Are you looking for cool science experiments for kids at home or for class? We've got you covered! We've compiled a list of 37 of the best science experiments for kids that cover areas of science ranging from outer space to dinosaurs to chemical reactions. By doing these easy science experiments, kids will make their own blubber and see how polar bears stay warm, make a rain cloud in a jar to observe how weather changes, create a potato battery that'll really power a lightbulb, and more.
Adults and kids will learn amazing new things about basic and acidic solutions with the Mind Blowing Science Kit. Whether erupting a color-changing volcano, creating a sunset in a test tube, or growing colorful, jiggly crystals, this science kit mixes learning with experimentation in a fun and colorful way for a wide range of ages. Each of the hands-on activities in the science guide is intended to be performed by a young scientist under adult supervision, although these activities can be adjusted to accommodate a range of ages and capabilities while still maintaining the educational excitement of the original experiments. In addition to providing detailed instructions, the science guide makes it possible for those adults who might not have a background in science, or even any exposure to scientific experimentation, to knowledgably perform experiments successfully. The dynamic, colorful nature of the experiments included in this kit make it great for pleasing a crowd at family gatherings, parties, or science fairs.
Children aged 9+ start to want more detailed experiments and activities, which shows they are ready to begin real-science. Whether they have interests in physics, chemistry or robotics there is always something to get them started on their way. Some tops are harder than others and make sure you read all the features and facts so that you find the ideal gift for your child.
Ever got an electric shock off something? Demonstrate the science behind the shocks with this jumping frogs experiment. With just a balloon, some sugar paper and a woolly jumper, you'll have frogs leaping in no time demonstrating the power of static electricity. It doesn't have to be frogs either, let your imagination run wild to create some other jumping stars of this easy science experiment!

Science is a wonderful thing for kids! There is so much to learn and discover right around us. Many science concepts start in the kitchen with simple materials you already have on hand. Fill a plastic tote with easy to find supplies and you will have a homemade kids science kit filled with learning opportunities that are sure to keep them busy all year long!
Invisible inks either react with another chemical to become visible or else weaken the structure of the paper so the message appears if you hold it over a heat source. But we're not talking about fire here. The heat of a normal light bulb is all that's required to darken the lettering. This baking soda recipe is nice because if you don't want to use a light bulb to reveal the message, you can just swab the paper with grape juice instead.
This science kit is perfect for my son. I got it for his 6th birthday and we've been having so much fun doing the experiments. It came with nearly all of the supplies except for simple things you have in your home like baking flour and water. Other kits I've bought have required so many other items which we didn't have, this one is so easy to use. He loves using the test tubes, the dropper, measuring out the components with the scoopers. He said it makes him feel like a real scientist. His 4 year old sister likes doing experiments too. This is the best kit to buy for a young child. So easy for them AND for you.
There are many variations on homemade molecule science crafts. This one uses clay and toothpicks, although gumdrops or even small pieces of fruit like grapes can be used in place of clay. Roll the clay into balls and use molecule diagrams to attach the clay to toothpicks in the shape of the molecules. Kids can make numerous types of molecules and learn how atoms bond together to form molecules.
Is it a liquid or solid? The answer is both! This DIY slime—made from glue, borax and water—is also known as a polymer (molecules that can stick close together to be a solid or spread apart and take liquid form). And it's all thanks to borax, which acts as a binder to prevent the glue from going completely liquid. Check out Explorable's recipe on mixing the ingredients. Prolong the life of your goo by keeping it in an airtight container in the fridge.
You could even step into the living room to have more scientific fun. Learn about static electricity with some tiny scraps of paper and a balloon. Blow up the balloon and tie it closed. Make a small pile of paper scraps on the floor, and rub the balloon back and forth several times on your hair or on a sweater. Immediately move the balloon to the paper and watch as the paper scraps cling to the balloon. Rub the balloon on your head or sweater again and then place it against the wall to see it stick there. This surprising sticking happens because you have moved electrons around and the balloon now has more of a negative charge, while the paper or the wall has more of a positive charge. Putting the two surfaces together makes the opposite charges stick to each other.
Have fun exploring science around your house and backyard. Take pictures of your experiment steps and make a science experiment notebook to record your findings. It's safest to work with a parent or other adult when performing science experiments, though. Always get permission before you work like a scientist, and ask an adult to help you with the experiment steps.
Ah, slime. It's the one thing that parents across the UK have been being pestered to make, so why not turn it into a science activity? For our concoction, we mixed shaving foam, PVA glue and a little bit of air freshener (fabric conditioner can work too!), to create a slime that you can swirl, stretch and crack, providing hours of fun. Try changing the quantities to see how the mixture changes, and ask the kids to explain the differences.