Younger children are most likely to be interested in something which is very hands-on, and gives results quickly. They probably won't be interested in growing a crystal, and are probably a bit young for something like a robot building kit. Young kids will be most likely to enjoy a gross science kit, or a volcano kit. Also think about safety features when buying for younger children. Make sure they won't eat anything they shouldn't, or there are no small parts which could be dangerous.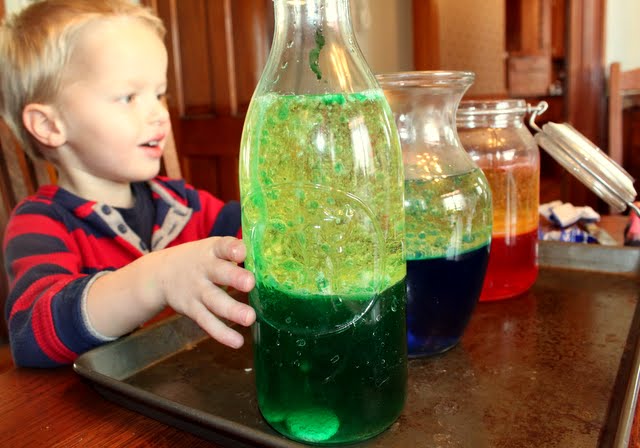 There is a wide range of price and quality, which is normally reflected on each other and the higher the price the better the quality. However, kids are surprisingly happy with what they get and if the budget is low to make sure you're enthusiasm is high. Kids love when you get involved and make the science magic happen, so ideally get enthusiastic. 

As you wonder and ask questions, experiments will let you watch chemical reactions as they happen. Even something as simple as writing a secret message on the bathroom mirror with a cotton swab and dish detergent can teach you about science. When the bathroom fills with warm steam from a shower, your message will appear like magic on the mirror. It's not really magic, though. The dish detergent on the mirror is preventing water molecules in the steam from sticking together, so you can see the letters you wrote earlier.
While The Big Bag of Science included some fun chemistry experiments, My First Mind Blowing Science Kit focuses solely on chemistry and chemical reactions. Want to witness a sunset in a test tube? What about a color-changing (or even underwater) volcano? This kit includes ingredients your child will need to conduct these colorful experiments over and over again—or at least until the powders, polymers, and oils run out. 

Ah, slime. It's the one thing that parents across the UK have been being pestered to make, so why not turn it into a science activity? For our concoction, we mixed shaving foam, PVA glue and a little bit of air freshener (fabric conditioner can work too!), to create a slime that you can swirl, stretch and crack, providing hours of fun. Try changing the quantities to see how the mixture changes, and ask the kids to explain the differences.