Making ice cream with a cup of half and half, a teaspoon of vanilla, two tablespoons of sugar in a quart bag. Then in a gallon bag about six cups of ice and half cup of salt, anything but table salt should work. Put the quart bag (sealed) in the gallon bag then seal and shake rattle and roll for about five minutes. Then pull out the quart sized bag with your ice cream and add your favorite toppings. – Heydi 

London Science Museum | ThinkTank - Birmingham Science Museum | Aberdeen Science Centre | Glasgow Science Centre | Museum of Science and Industry, Manchester | Life Science Centre (Centre for Life), Newcastle | National Science and Media Museum, Manchester | Techniquest, Cardiff | Museum of Victorian Science, Whitby | Whipple Museum of the History of Science, Cambridge | Museum of the History of Science, Oxford
This grow-your-own experiment that lets you grow crystals inside an egg shell. Be sure to get alum powder that contains potassium, or else you won't get any crystal growth. Adding drops of food dye to the growing solution yields some super cool crystals. A perfectly formed geode takes about 12-15 hours to grow, making this a great weekend project. Check out more of Art and Soul's gorgeous eggs over at their blog!
Don't be crodsquinkled, as these dream potion experiments are the best way to bring the bizarrely brilliant world of the BFG to life. These easy to make concoctions will whizz, fizz and pop before your eyes, creating exciting chemical reactions that will have all kids squealing with delight. Again made using things you'll find at home or can pick up from the supermarket, this is an easy project to try with the kids. Be warned though - this is one of the messiest science experiments for kids on the list!
Red cabbage powder (0.25oz/7g), citric acid (2oz/59ml), baking soda (2oz/59ml), 3 color tablets, cross-linked polyacrylamide co-polymer (0.5oz/14g), vegetable oil (2oz/59ml), corn starch (2oz/59ml), paper, 2 cotton swabs, 3 test tubes with caps, test tube stand, 3 plastic cups, pipette, stir 2 sticks, small and medium plastic measuring scoops and activity guide.
This light refraction experiment takes only a few minutes to set up and uses basic materials, but it's a great way to show kids how light travels. You'll draw two arrows on a sticky note, stick it to the wall, then fill a clear water bottle with water. As you move the water bottle in front of the arrows, the arrows will appear to change the direction they're pointing. This is because of the refraction that occurs when light passes through materials like water and plastic.
Kids will love shooting pom poms out of these homemade popsicle stick catapults. After assembling the catapults out of popsicle sticks, rubber bands, and plastic spoons, they're ready to launch pom poms or other lightweight objects. To teach kids about simple machines, you can ask them about how they think the catapults work, what they should do to make the pom poms go a farther/shorter distance, and how the catapult could be made more powerful.
You could even step into the living room to have more scientific fun. Learn about static electricity with some tiny scraps of paper and a balloon. Blow up the balloon and tie it closed. Make a small pile of paper scraps on the floor, and rub the balloon back and forth several times on your hair or on a sweater. Immediately move the balloon to the paper and watch as the paper scraps cling to the balloon. Rub the balloon on your head or sweater again and then place it against the wall to see it stick there. This surprising sticking happens because you have moved electrons around and the balloon now has more of a negative charge, while the paper or the wall has more of a positive charge. Putting the two surfaces together makes the opposite charges stick to each other.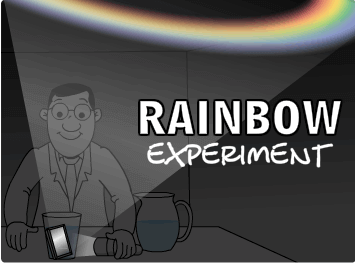 You've probably seen the label that says "fortified with iron" on your cereal box, but how much iron is actually in your cereal? Is there enough to cause a magnetic reaction? This super easy experiment doesn't require too many fancy ingredients (cereal + magnet) which means you and the kiddos can try it right away. The results may surprise you! Get the how-to at Rookie Parenting and get started!
Baking soda volcanoes are one of the classic science projects for kids, and they're also one of the most popular. It's hard to top the excitement of a volcano erupting inside your home. This experiment can also be as simple or in-depth as you like. For the eruption, all you need is baking soda and vinegar (dishwashing detergent adds some extra power to the eruption), but you can make the "volcano" as elaborate and lifelike as you wish.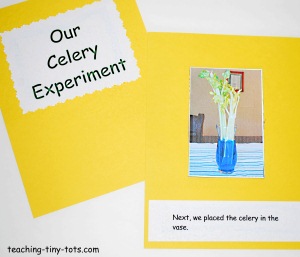 But the point is, I had not done any of these experiments with my daughter until we got this box. This has everything in one box, with all the equipment-- including a stand for the test tubes, which another review didn't have for some reason. (And get a little bag superabsorbent polymers, too. Those little buggers are fun but somehow end up everywhere). It's fun, it's easy, there are some experiments that require patience, which is really good for this age group. We are most of the way through the kit, doing maybe three experiments a week, and now I am shopping for more kits. Because even though I have the equipment, the books, and the education to diy the whole thing... the kit is easy, fun, and we actually DO it.
This experiment teaches kids about weather and lets them learn how clouds form by making their own rain cloud. This is definitely a science project that requires adult supervision since it uses boiling water as one of the ingredients, but once you pour the water into a glass jar, the experiment is fast and easy, and you'll be rewarded with a little cloud forming in the jar due to condensation.
It's natural to have a lot of questions about the world. As you wonder about these things and ask questions, you are learning. Curiosity about science helps you become an explorer finding out how things work and why things happen. Anyone can be a scientist, performing experiments to ask questions and get answers. You can even be a scientist at home, working on experiments with ingredients you probably have in your kitchen or laundry room. Always get a parent's permission before you conduct experiments. Working as a team with an adult is best for safety.