This mechanical weathering experiment teaches kids why and how rocks break down or erode. Take two pieces of clay, form them into balls, and wrap them in plastic wrap. Then, leave one out while placing the other in the freezer overnight. The next day, unwrap and compare them. You can repeat freezing the one piece of clay every night for several days to see how much more cracked and weathered it gets than the piece of clay that wasn't frozen. It may even begin to crumble. This weathering also happens to rocks when they are subjected to extreme temperatures, and it's one of the causes of erosion.
Kids will love shooting pom poms out of these homemade popsicle stick catapults. After assembling the catapults out of popsicle sticks, rubber bands, and plastic spoons, they're ready to launch pom poms or other lightweight objects. To teach kids about simple machines, you can ask them about how they think the catapults work, what they should do to make the pom poms go a farther/shorter distance, and how the catapult could be made more powerful.
Find out how plants "drink" water with some food coloring. Use carnations, roses, or stalks of celery submerged in the colored water and watch the liquid slowly seep through the plant's "veins" and towards the leaves. Keep an eye out -- you could have a very colorful bouquet just after the first day. Get the rundown by Dad's Book of Awesome Science Experiments over here.
Dry ice is already cool enough on its own (yes, pun intended) but it takes science to turn them a rad overflow of bubbles. When you add water, it changes the temperature of the dry ice, causing the ice to go from solid to gas. That's where the fog and bubbles come from! Head to crafty blog Simply Modern Mom to get the full tutorial. But be careful: Dry ice can cause serious skin burns, so make sure your kids are well supervised and know not to touch the ice.
Ideal for introducing science-based activities to young children, Cassie's experiment for mixing colours and water is a simple science experiment designed for preschoolers. Let your little one choose which colour to use when, ask them to describe the colourful shapes they'll see dancing in the water and see what happens when you mix more than one colour together.
Insect hotels can be as simple (just a few sticks wrapped in a bundle) or as elaborate as you'd like, and they're a great way for kids to get creative making the hotel and then get rewarded by seeing who has moved into the home they built. After creating a hotel with hiding places for bugs, place it outside (near a garden is often a good spot), wait a few days, then check it to see who has occupied the "rooms." You can also use a bug ID book or app to try and identify the visitors.
Making an electromagnet at home is fun and easy. Most magnets, like the ones on many refrigerators, cannot be turned off; they are called permanent magnets. This one can be and is therefor called an electromagnet. They run on electricity and are only magnetic when the electricity is flowing. The electricity flowing through the wire arranges the molecules in the nail so that they are attracted to certain metals.
Rock kits – This area tends to include those already covered such as geodes and geology kits, as well as crystal growing sets. They might also include rock collections, which your child can identify then how off their knowledge. Another great product coming under this category is the rock tumbler. Using this special machine, kids can turn ordinary rocks into shiny gemstones. Kids can then get creative and turn their new rocks into keychains, jewellery, or anything they fancy. A great way to combine science and art.
If your kids are curious about how animals like polar bears and seals stay warm in polar climates, you can go beyond just explaining it to them; you can actually have them make some of their own blubber and test it out. After you've filled up a large bowl with ice water and let it sit for a few minutes to get really cold, have your kids dip a bare hand in and see how many seconds they can last before their hand gets too cold. Next, coat one of their fingers in shortening and repeat the experiment. Your child will notice that, with the shortening acting like a protective layer of blubber, they don't feel the cold water nearly as much.
You won't want to do this experiment near anything that's difficult to clean (outside may be best), but kids will love seeing this "elephant toothpaste" crazily overflowing the bottle and oozing everywhere. Pour the hydrogen peroxide, food coloring, and dishwashing soap into the bottle, and in the cup mix the yeast packet with some warm water for about 30 seconds. Then, add the yeast mixture to the bottle, stand back, and watch the solution become a massive foamy mixture that pours out of the bottle! The "toothpaste" is formed when the yeast removed the oxygen bubbles from the hydrogen peroxide which created foam. This is an exothermic reaction, and it creates heat as well as foam (you can have kids notice that the bottle became warm as the reaction occurred).
The kitchen can be an ideal place for performing science experiments, with an adult's help. For instance, with a few stalks of celery and some food coloring, you can watch capillary action happen almost before your eyes. Capillary action describes what happens as plants move water up from their roots to their leaves. Get four stalks of celery and cut off the bottoms so each stalk is 10 inches long. You'll also need four identical cups, each filled with a half-cup of cool water. Decide what color you want to make the water, and then add the same number of drops of food coloring to each cup of water. Stir the water well with a spoon. Place one stalk of celery into each cup. After two hours, remove one stalk and label this one "two hours." After four hours, remove another stalk and label it the same way. Do the same with the next stalk at six hours and the final stalk at eight hours. After you finish, compare the celery stalks to see how each one changed color, depending on how long it was in the colored water.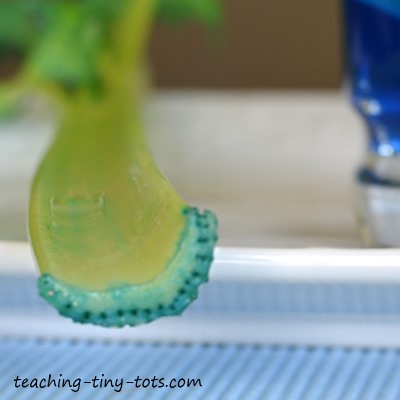 If you've ever wondered why someone can measure and pour ingredients into a bowl, mix them up, and then bake the batter in the oven to make a cake, you've thought about science. The process of mixing certain ingredients together and adding heat causes the ingredients to react and change. For example, baking powder or baking soda in a cake recipe will react with acidic or wet things in the batter to puff it up and make the cake light and fluffy. Scientists tested these reactions so many times that they learned what would happen every time. This is called experimentation, and you can do it, too.