Not only will your kids build these physics machines, but they'll also learn about the theories and facts behind each by understanding Newton's Laws. For ages 8 and up, the Engino Newton's Law Kit will teach your kids the effects of potential and kinetic energy by conducting one of the 8 included experiments. By the end, they'll understand how energy is transferred from one car to another during a crash, or how an object gets catapulted from its machine.
You could even step into the living room to have more scientific fun. Learn about static electricity with some tiny scraps of paper and a balloon. Blow up the balloon and tie it closed. Make a small pile of paper scraps on the floor, and rub the balloon back and forth several times on your hair or on a sweater. Immediately move the balloon to the paper and watch as the paper scraps cling to the balloon. Rub the balloon on your head or sweater again and then place it against the wall to see it stick there. This surprising sticking happens because you have moved electrons around and the balloon now has more of a negative charge, while the paper or the wall has more of a positive charge. Putting the two surfaces together makes the opposite charges stick to each other.
This experiment is a great way for young kids to learn about static electricity, and it's more fun and visual than just having them rub balloons against their heads. First you'll create a butterfly, using thick paper (such as cardstock) for the body and tissue paper for the wings. Then, blow up the balloon, have the kids rub it against their head for a few seconds, then move the balloon to just above the butterfly's wings. The wings will move towards the balloon due to static electricity, and it'll look like the butterfly is flying.
Invisible inks either react with another chemical to become visible or else weaken the structure of the paper so the message appears if you hold it over a heat source. But we're not talking about fire here. The heat of a normal light bulb is all that's required to darken the lettering. This baking soda recipe is nice because if you don't want to use a light bulb to reveal the message, you can just swab the paper with grape juice instead.
Any one of these simple science experiments for kids can get children learning and excited about science. You can choose a science experiment based on your child's specific interest or what they're currently learning about, or you can do an experiment on an entirely new topic to expand their learning and teach them about a new area of science. From easy science experiments for kids to the more challenging ones, these will all help kids have fun and learn more about science.
Baking soda volcanoes are one of the classic science projects for kids, and they're also one of the most popular. It's hard to top the excitement of a volcano erupting inside your home. This experiment can also be as simple or in-depth as you like. For the eruption, all you need is baking soda and vinegar (dishwashing detergent adds some extra power to the eruption), but you can make the "volcano" as elaborate and lifelike as you wish.
My nieces are seven years old and into science. The experiments were easy and straightforward - easily read and done by the kids but adult supervision is probably a good idea. Mind blowing? Not so sure about that but very cool for the budding scientist. Perfect kit to start with. I think it's a cool way to encourage girls to love science and math. Boys will love it too - an exploding volcano! - so it really is great for the whole family. Younger kids could definitely participate with the aforementioned supervision. We LOVED it!
This science kit is perfect for my son. I got it for his 6th birthday and we've been having so much fun doing the experiments. It came with nearly all of the supplies except for simple things you have in your home like baking flour and water. Other kits I've bought have required so many other items which we didn't have, this one is so easy to use. He loves using the test tubes, the dropper, measuring out the components with the scoopers. He said it makes him feel like a real scientist. His 4 year old sister likes doing experiments too. This is the best kit to buy for a young child. So easy for them AND for you.
Education and science go hand-in-hand and one without the other is a sad time for any child indeed. There are loads of ways to get your children into science and the sooner the better. One way is to have fun with scientific experiments that use hands-on learning techniques. The hands-on approach is ideally what young scientists want to do and the less theory the better, especially when they are so young.
Ideal for introducing science-based activities to young children, Cassie's experiment for mixing colours and water is a simple science experiment designed for preschoolers. Let your little one choose which colour to use when, ask them to describe the colourful shapes they'll see dancing in the water and see what happens when you mix more than one colour together.
The droid can be dismantled and put back together in new, different ways giving your child endless possibilities. This kit is compatible with other kids from littleBits, meaning you can combine them to give even more fun opportunities. The droid can be controlled via a remote control available on the app, or it can be set to self-navigation mode. Your kids will be amazed to see their creation roll around the room by itself without crashing into any objects in its path.
Have fun exploring science around your house and backyard. Take pictures of your experiment steps and make a science experiment notebook to record your findings. It's safest to work with a parent or other adult when performing science experiments, though. Always get permission before you work like a scientist, and ask an adult to help you with the experiment steps.
In this quick and fun science experiment, kids will mix water, oil, food coloring, and antacid tablets to create their own (temporary) lava lamp. Oil and water don't mix easily, and the antacid tablets will cause the oil to form little globules that are dyed by the food coloring. Just add the ingredients together and you'll end up with a homemade lava lamp!
By creating an articulated hand model, you can teach kids about bones, joints, and how our hands are able to move in many ways and accomplish so many different tasks. After creating a hand out of thin foam, kids will cut straws to represent the different bones in the hand and glue them to the fingers of the hand models. You'll then thread yarn (which represents tendons) through the straws, stabilize the model with a chopstick or other small stick, and end up with a hand model that moves and bends the way actual human hands do.
You won't want to do this experiment near anything that's difficult to clean (outside may be best), but kids will love seeing this "elephant toothpaste" crazily overflowing the bottle and oozing everywhere. Pour the hydrogen peroxide, food coloring, and dishwashing soap into the bottle, and in the cup mix the yeast packet with some warm water for about 30 seconds. Then, add the yeast mixture to the bottle, stand back, and watch the solution become a massive foamy mixture that pours out of the bottle! The "toothpaste" is formed when the yeast removed the oxygen bubbles from the hydrogen peroxide which created foam. This is an exothermic reaction, and it creates heat as well as foam (you can have kids notice that the bottle became warm as the reaction occurred).
If your kids are learning about genetics, you can do this edible double helix craft to show them how DNA is formed, what its different parts are, and what it looks like. The licorice will form the sides or backbone of the DNA and each color of marshmallow will represent one of the four chemical bases. Kids will be able to see that only certain chemical bases pair with each other.
There are loads of different science kits to choose from and we know it can be confusing sometimes which types are ideal for younger children to begin experimenting with. Therefore we have picked some really cool experiment kits. In this review, we have reviewed a whopping 32 science kits that stand out as the best overall, so choosing couldn't be easier. All have an appropriate age guide so you can't go wrong with picking. 

Science is a wonderful thing for kids! There is so much to learn and discover right around us. Many science concepts start in the kitchen with simple materials you already have on hand. Fill a plastic tote with easy to find supplies and you will have a homemade kids science kit filled with learning opportunities that are sure to keep them busy all year long!
Ever got an electric shock off something? Demonstrate the science behind the shocks with this jumping frogs experiment. With just a balloon, some sugar paper and a woolly jumper, you'll have frogs leaping in no time demonstrating the power of static electricity. It doesn't have to be frogs either, let your imagination run wild to create some other jumping stars of this easy science experiment!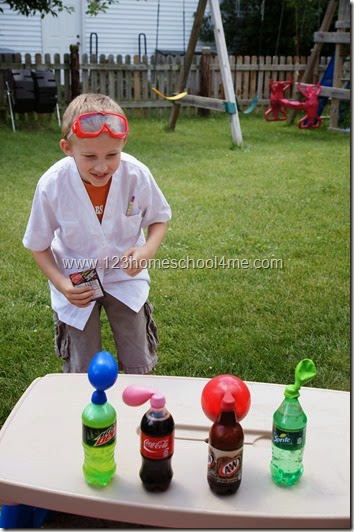 Geode Kits – For any child who thinks rocks are boring – a kit where they can break open their own geode is a great way to change their mind. National Geographic is a great choice if this is the type of kit you are looking for. Their products include hand-picked geodes and come with safety goggles and a stand for your child to proudly display their treasures. A great choice for children aged around 6 years old and above, they're sure to be more interested in Earth science after this experiment.