When these nails and copper wires collide, heat is generated (psst ... heat is a result of expended energy, so you can explain to your little runner why he feels warmer after a race around the house). But with some potato magic, the properties of the nail and copper stay separated, allowing the heat to become the electric energy needed to power up your devices. Build your own potato battery with this tutorial from PBS Kids.
Everyone can get ahold of a few potatoes, and what better way to use them (aside from consumption, that is) than to make them into an operating clock? It's easy and only requires the use of a few things many people have handy, or, if you need to go to the electronics store to purchase an LED clock anyway, you can get the alligator clips and electrodes there, as well.
It takes a few hours to see the results of this leaf experiment, but it couldn't be easier to set up, and kids will love to see a leaf actually "breathing." Just get a large-ish leaf, place it in a bowl (glass works best so you can see everything) filled with water, place a small rock on the leaf to weigh it down, and leave it somewhere sunny. Come back in a few hours and you'll see little bubbles in the water created when the leaf releases the oxygen it created during photosynthesis.
Kids will love shooting pom poms out of these homemade popsicle stick catapults. After assembling the catapults out of popsicle sticks, rubber bands, and plastic spoons, they're ready to launch pom poms or other lightweight objects. To teach kids about simple machines, you can ask them about how they think the catapults work, what they should do to make the pom poms go a farther/shorter distance, and how the catapult could be made more powerful.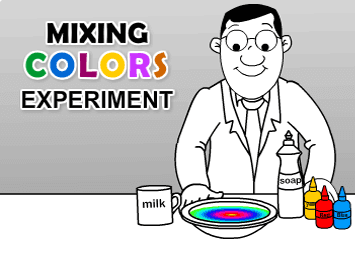 If your kids are curious about how animals like polar bears and seals stay warm in polar climates, you can go beyond just explaining it to them; you can actually have them make some of their own blubber and test it out. After you've filled up a large bowl with ice water and let it sit for a few minutes to get really cold, have your kids dip a bare hand in and see how many seconds they can last before their hand gets too cold. Next, coat one of their fingers in shortening and repeat the experiment. Your child will notice that, with the shortening acting like a protective layer of blubber, they don't feel the cold water nearly as much.
Lightning is essentially electrons moving uber fast between the sky and the earth—and with a few simple materials, you can use homemade static electricity (the reason behind your hair sticking up when you rub a balloon or go through a tunnel slide super fast) for DIY lightning. Figure how to recreate a family-friendly version of this spark by visiting activity blog Learn Play Imagine.
This blood model experiment is a great way to get kids to visual what their blood looks like and how complicated it really is. Each ingredient represents a different component of blood (plasma, platelets, red blood cells, etc.), so you just add a certain amount of each to the jar, swirl it around a bit, and you have a model of what your blood looks like.
Tinker Crate develops kids' natural creativity and curiosity using STEM ("Science, Technology, Engineering, and Math") principles while saving time for busy parents. Our mission is to help kids use STEM as a key to creative problem solving, a foundation for critical thinking, and a pipeline to innovation. Your monthly crate includes all the materials and inspiration for science and engineering projects such as: trebuchet, paper circuits and zoetrope.
Younger children are most likely to be interested in something which is very hands-on, and gives results quickly. They probably won't be interested in growing a crystal, and are probably a bit young for something like a robot building kit. Young kids will be most likely to enjoy a gross science kit, or a volcano kit. Also think about safety features when buying for younger children. Make sure they won't eat anything they shouldn't, or there are no small parts which could be dangerous.

Did you know that a simple potato can produce enough energy to keep a light bulb lit for over a month? You can create a simple potato battery to show kids. There are kits that provide all the necessary materials and how to set it up, but if you don't purchase one of these it can be a bit trickier to gather everything you need and assemble it correctly. Once it's set though, you'll have your own farm grown battery!
The droid can be dismantled and put back together in new, different ways giving your child endless possibilities. This kit is compatible with other kids from littleBits, meaning you can combine them to give even more fun opportunities. The droid can be controlled via a remote control available on the app, or it can be set to self-navigation mode. Your kids will be amazed to see their creation roll around the room by itself without crashing into any objects in its path.
As you wonder and ask questions, experiments will let you watch chemical reactions as they happen. Even something as simple as writing a secret message on the bathroom mirror with a cotton swab and dish detergent can teach you about science. When the bathroom fills with warm steam from a shower, your message will appear like magic on the mirror. It's not really magic, though. The dish detergent on the mirror is preventing water molecules in the steam from sticking together, so you can see the letters you wrote earlier.
With just a package of Starbursts and a few other materials, you can create models of each of the three rock types: igneous, sedimentary, and metamorphic. Sedimentary "rocks" will be created by pressing thin layers of Starbursts together, metamorphic by heating and pressing Starbursts, and igneous by applying high levels of heat to the Starbursts. Kids will learn how different types of rocks are forms and how the three rock types look different from each other.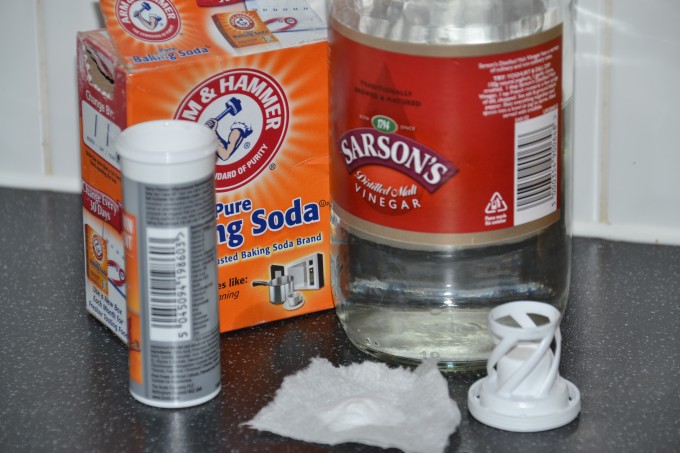 Your whistler has the basics of air pressure down just by using their mouth to blow. And now you can amaze them with this egg-cellent experiment. There is a little fire play involved (dropping a lit paper into the bottle), but that's what causes the unbalanced air pressure, which pushes the egg into the bottle. Want to test it out? Head over to The Scientific Mom and get the step by step.
Let's be honest, we're all secretly waiting for the hovercraft to be a bonafide mode of transport, but in the meantime why not try this Balloon Hovercraft experiment at home? Using just a balloon, a bottle cap and a CD, you'll be able to create a hovercraft that glides across the table to move, and with just 3 easy steps to follow, it's perfect for a quick at-home activity.
For this magic milk experiment, partly fill a shallow dish with milk, then add a one drop of each food coloring color to different parts of the milk. The food coloring will mostly stay where you placed it. Next, carefully add one drop of dish soap to the middle of the milk. It'll cause the food coloring to stream through the milk and away from the dish soap. This is because the dish soap breaks up the surface tension of the milk by dissolving the milk's fat molecules.
Tinker Crate develops kids' natural creativity and curiosity using STEM ("Science, Technology, Engineering, and Math") principles while saving time for busy parents. Our mission is to help kids use STEM as a key to creative problem solving, a foundation for critical thinking, and a pipeline to innovation. Your monthly crate includes all the materials and inspiration for science and engineering projects such as: trebuchet, paper circuits and zoetrope.
We have categorized by age to make things really easy when deciding which type of experiment kit to go for and start experimenting with. There is everything from geology rock experiments, ocean discovery kits, volcano boxed experiments, butterfly and insect garden kits, robotics activities and kits, human biology box sets and chemistry sets that bring the obscure into light making learning loads of fun and super exciting for everyone involved.  These mentioned are only in the 3 years old and over a section, but we also have a 6 years old and above, because we understand the capabilities of children. The section for 8 years old and above come under one section to help make a clear distinction.
Insert a little plant science into the mix by re-growing food from scraps. Think onions, potatoes, and lettuces for this one (psst… green onions are a super easy, fast option). Get the low down on all that recycled goodness at Mrs. Happy Homemaker. Since plants need water and sunlight to grow, exposing scrap roots to that winning combo helps them recharge.
The best science experiments guide for kids ages 3-9. This is YOUR go-to resource for all things STEM and science all year round!  STEM stands for science, technology, engineering, and math. You can make STEM and science exciting, educational, and inexpensive for young kids. Fun and easy science for kids starts here! Don't hesitate getting set up for science at home right away.
Have you ever gone into a cave and seen huge stalactites hanging from the top of the cave? Stalactites are formed by dripping water. The water is filled with particles which slowly accumulate and harden over the years, forming stalactites. You can recreate that process with this stalactite experiment. By mixing a baking soda solution, dipping a piece of wool yarn in the jar and running it to another jar, you'll be able to observe baking soda particles forming and hardening along the yarn, similar to how stalactites grow.
If you've ever wondered how elephants keep their tusks clean, we've got the answer. They use elephant toothpaste! Find out how to mix your own and figure out the science behind this dynamic exothermic (heat releasing) reaction from Asia Citro at Fun at Home With Kids. Our favorite part? That you get to throw in some sensory playtime after the action's over.
There are loads of different science kits to choose from and we know it can be confusing sometimes which types are ideal for younger children to begin experimenting with. Therefore we have picked some really cool experiment kits. In this review, we have reviewed a whopping 32 science kits that stand out as the best overall, so choosing couldn't be easier. All have an appropriate age guide so you can't go wrong with picking.
This is the most kid friendly and fun lab kit you can get. My kids are ages 2 and 4 and cannot get enough of this. Everything in the kit is high-quality, and this kit lasts a very long time. We have done these experiments over and over for 3 months and only recently have used an entire bag of something. I admit to even being impressed by how cool the activities are. This is worth every single penny. I will 100% be ordering another kit when we deplete all the things in ours.
Sir Isaac Newton discovered many integral concepts that are important for scientific discovery today, and this kit teaches them all: inertia, momentum, kinetic energy, and potential energy. This Engino Newton's Law Kit is perfect for the kids who are very hands-on and like to build things. Your kids will understand how classical mechanics works by constructing their own catapult, balloon powered plane, drag racing car, crash car, and more.
Dry ice is already cool enough on its own (yes, pun intended) but it takes science to turn them a rad overflow of bubbles. When you add water, it changes the temperature of the dry ice, causing the ice to go from solid to gas. That's where the fog and bubbles come from! Head to crafty blog Simply Modern Mom to get the full tutorial. But be careful: Dry ice can cause serious skin burns, so make sure your kids are well supervised and know not to touch the ice.
Geode Kits – For any child who thinks rocks are boring – a kit where they can break open their own geode is a great way to change their mind. National Geographic is a great choice if this is the type of kit you are looking for. Their products include hand-picked geodes and come with safety goggles and a stand for your child to proudly display their treasures. A great choice for children aged around 6 years old and above, they're sure to be more interested in Earth science after this experiment.