Scientific Explorer's Mind Blowing Science Kit includes almost everything you need to set up exciting, colorful experiments with your young scientist. Included in this dynamic kit are the following components: red cabbage juice powder, citric acid, color tablets, polyacrylamide crystals, a pipette, small and medium scoops, and three plastic cups. Only basic supplies are required but not included, such as water, towels, a plate or tray to catch spills, and a stirring spoon. Although none of the experiments included in this kit are especially messy, each one should be done on a flat surface that can be easily wiped clean in case of spills.
Call the emergency services straight away if anything goes wrong. However these are all well-tested and very safe for the ages provided by the manufacturers, so rest assured this is only a formality, but it is good to be safe and start young with proper preventative measures. After all, what you start now will set the example for what they grow up to be.
This mechanical weathering experiment teaches kids why and how rocks break down or erode. Take two pieces of clay, form them into balls, and wrap them in plastic wrap. Then, leave one out while placing the other in the freezer overnight. The next day, unwrap and compare them. You can repeat freezing the one piece of clay every night for several days to see how much more cracked and weathered it gets than the piece of clay that wasn't frozen. It may even begin to crumble. This weathering also happens to rocks when they are subjected to extreme temperatures, and it's one of the causes of erosion.
With just a package of Starbursts and a few other materials, you can create models of each of the three rock types: igneous, sedimentary, and metamorphic. Sedimentary "rocks" will be created by pressing thin layers of Starbursts together, metamorphic by heating and pressing Starbursts, and igneous by applying high levels of heat to the Starbursts. Kids will learn how different types of rocks are forms and how the three rock types look different from each other.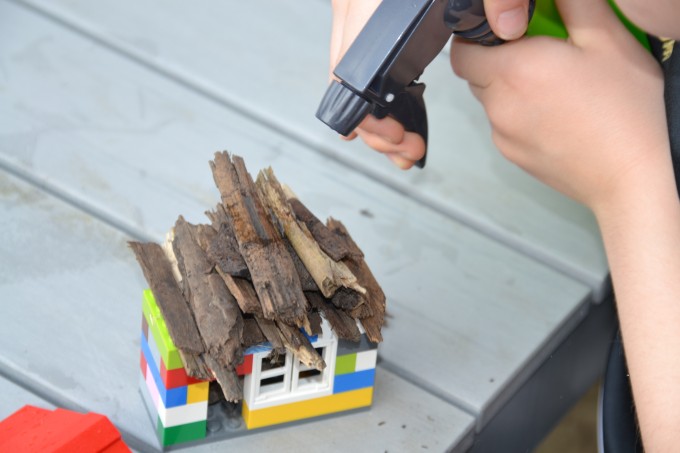 If your kids are learning about genetics, you can do this edible double helix craft to show them how DNA is formed, what its different parts are, and what it looks like. The licorice will form the sides or backbone of the DNA and each color of marshmallow will represent one of the four chemical bases. Kids will be able to see that only certain chemical bases pair with each other.
Ideal for introducing science-based activities to young children, Cassie's experiment for mixing colours and water is a simple science experiment designed for preschoolers. Let your little one choose which colour to use when, ask them to describe the colourful shapes they'll see dancing in the water and see what happens when you mix more than one colour together.
It takes about a week for the crystals of this rock candy experiment to form, but once they have you'll be able to eat the results! After creating a sugar solution, you'll fill jars with it and dangle strings in them that'll slowly become covered with the crystals. This experiment involves heating and pouring boiling water, so adult supervision is necessary, once that step is complete, even very young kids will be excited to watch crystals slowly form.
You could even step into the living room to have more scientific fun. Learn about static electricity with some tiny scraps of paper and a balloon. Blow up the balloon and tie it closed. Make a small pile of paper scraps on the floor, and rub the balloon back and forth several times on your hair or on a sweater. Immediately move the balloon to the paper and watch as the paper scraps cling to the balloon. Rub the balloon on your head or sweater again and then place it against the wall to see it stick there. This surprising sticking happens because you have moved electrons around and the balloon now has more of a negative charge, while the paper or the wall has more of a positive charge. Putting the two surfaces together makes the opposite charges stick to each other.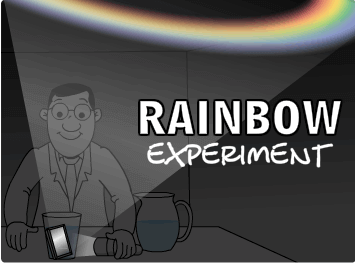 CERTAIN CONTENT THAT APPEARS ON THIS SITE COMES FROM AMAZON SERVICES LLC. THIS CONTENT IS PROVIDED 'AS IS' AND IS SUBJECT TO CHANGE OR REMOVAL AT ANY TIME. Product prices and availability are accurate as of the date/time indicated and are subject to change. Any price and availability information displayed on Amazon.com at the time of purchase will apply to the purchase of this product. All prices on this site may change and those considered valid are displayed on Amazon.com
Insect hotels can be as simple (just a few sticks wrapped in a bundle) or as elaborate as you'd like, and they're a great way for kids to get creative making the hotel and then get rewarded by seeing who has moved into the home they built. After creating a hotel with hiding places for bugs, place it outside (near a garden is often a good spot), wait a few days, then check it to see who has occupied the "rooms." You can also use a bug ID book or app to try and identify the visitors.
You've probably seen the label that says "fortified with iron" on your cereal box, but how much iron is actually in your cereal? Is there enough to cause a magnetic reaction? This super easy experiment doesn't require too many fancy ingredients (cereal + magnet) which means you and the kiddos can try it right away. The results may surprise you! Get the how-to at Rookie Parenting and get started!
By creating an articulated hand model, you can teach kids about bones, joints, and how our hands are able to move in many ways and accomplish so many different tasks. After creating a hand out of thin foam, kids will cut straws to represent the different bones in the hand and glue them to the fingers of the hand models. You'll then thread yarn (which represents tendons) through the straws, stabilize the model with a chopstick or other small stick, and end up with a hand model that moves and bends the way actual human hands do.
Another physics kit that is sure to interest your child if they enjoy the Engino Newton's Law Kit is the Klutz LEGO Chain Reactions Kit. This one teaches your kids about chain reactions and moving machines while also encouraging creativity and ingenuity by building their own. Plus it uses LEGO bricks they can play with when they're done experimenting.
Homemade Kits – There are probably loads of objects around your home already, which can be used to set up your own science experiments. These include things like salt, baking soda, vinegar, soap, cornstarch and of course food dye to make things more interesting! You'll also need some basic equipment like tweezers, ramekins or small tubs, a funnel and a dropper for example. There are too many home science experiments to discuss here, but with these basic supplies you'll find you can perform some really cool experiments to amaze the kids!
Let's be honest, we're all secretly waiting for the hovercraft to be a bonafide mode of transport, but in the meantime why not try this Balloon Hovercraft experiment at home? Using just a balloon, a bottle cap and a CD, you'll be able to create a hovercraft that glides across the table to move, and with just 3 easy steps to follow, it's perfect for a quick at-home activity.
Don't be crodsquinkled, as these dream potion experiments are the best way to bring the bizarrely brilliant world of the BFG to life. These easy to make concoctions will whizz, fizz and pop before your eyes, creating exciting chemical reactions that will have all kids squealing with delight. Again made using things you'll find at home or can pick up from the supermarket, this is an easy project to try with the kids. Be warned though - this is one of the messiest science experiments for kids on the list!
The best science experiments guide for kids ages 3-9. This is YOUR go-to resource for all things STEM and science all year round!  STEM stands for science, technology, engineering, and math. You can make STEM and science exciting, educational, and inexpensive for young kids. Fun and easy science for kids starts here! Don't hesitate getting set up for science at home right away. 

Everyone can get ahold of a few potatoes, and what better way to use them (aside from consumption, that is) than to make them into an operating clock? It's easy and only requires the use of a few things many people have handy, or, if you need to go to the electronics store to purchase an LED clock anyway, you can get the alligator clips and electrodes there, as well.
Insect hotels can be as simple (just a few sticks wrapped in a bundle) or as elaborate as you'd like, and they're a great way for kids to get creative making the hotel and then get rewarded by seeing who has moved into the home they built. After creating a hotel with hiding places for bugs, place it outside (near a garden is often a good spot), wait a few days, then check it to see who has occupied the "rooms." You can also use a bug ID book or app to try and identify the visitors.

It happens to the Statue of Liberty and it happens to the change in your pocket! Create your own home lab with just a few household ingredients (this experiment will literally cost you just pennies). It's also a chemical reaction with very non-toxic ingredients, so it's safe and fascinating even for young kids. Click over to Buggy and Buddy to get the simple how-to.
This blood model experiment is a great way to get kids to visual what their blood looks like and how complicated it really is. Each ingredient represents a different component of blood (plasma, platelets, red blood cells, etc.), so you just add a certain amount of each to the jar, swirl it around a bit, and you have a model of what your blood looks like.
Tinker Crate develops kids' natural creativity and curiosity using STEM ("Science, Technology, Engineering, and Math") principles while saving time for busy parents. Our mission is to help kids use STEM as a key to creative problem solving, a foundation for critical thinking, and a pipeline to innovation. Your monthly crate includes all the materials and inspiration for science and engineering projects such as: trebuchet, paper circuits and zoetrope.
Can you and the kiddos solve the mysterious case of the disappearing egg shell? Following the simple how-to at Go Science Girls, you'll learn the step-by-step and talking points about the process along the way. Warning! Although it's totally non-toxic, toddler aged kids will be tempted to squeeze the egg at the end so make sure it's a supervised experiment. Visit Go Science Girls to get cracking!
London Science Museum | ThinkTank - Birmingham Science Museum | Aberdeen Science Centre | Glasgow Science Centre | Museum of Science and Industry, Manchester | Life Science Centre (Centre for Life), Newcastle | National Science and Media Museum, Manchester | Techniquest, Cardiff | Museum of Victorian Science, Whitby | Whipple Museum of the History of Science, Cambridge | Museum of the History of Science, Oxford