You could even step into the living room to have more scientific fun. Learn about static electricity with some tiny scraps of paper and a balloon. Blow up the balloon and tie it closed. Make a small pile of paper scraps on the floor, and rub the balloon back and forth several times on your hair or on a sweater. Immediately move the balloon to the paper and watch as the paper scraps cling to the balloon. Rub the balloon on your head or sweater again and then place it against the wall to see it stick there. This surprising sticking happens because you have moved electrons around and the balloon now has more of a negative charge, while the paper or the wall has more of a positive charge. Putting the two surfaces together makes the opposite charges stick to each other.
This experiment is a great way for young kids to learn about static electricity, and it's more fun and visual than just having them rub balloons against their heads. First you'll create a butterfly, using thick paper (such as cardstock) for the body and tissue paper for the wings. Then, blow up the balloon, have the kids rub it against their head for a few seconds, then move the balloon to just above the butterfly's wings. The wings will move towards the balloon due to static electricity, and it'll look like the butterfly is flying.
Invisible inks either react with another chemical to become visible or else weaken the structure of the paper so the message appears if you hold it over a heat source. But we're not talking about fire here. The heat of a normal light bulb is all that's required to darken the lettering. This baking soda recipe is nice because if you don't want to use a light bulb to reveal the message, you can just swab the paper with grape juice instead.
Step Four: Suspend the pit over a glass filled with water. The toothpicks will rest on the rim of the glass and hold the pit in place so it doesn't sink to the bottom. Always check the water level in the glass and see that the water is covering the fat base of the pit by about an inch depth. If the water is below that level you'll need to add some more.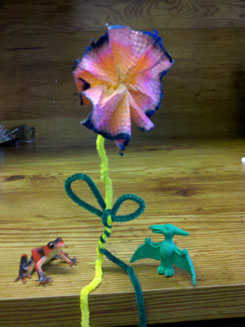 Wonderful ideas! As a former science teacher, science department chair and system-wide science supervisor,; I salute you! It is mothers like you who keep the spark of investigation going in the eyes of our children. I love, love love hands-on science! You are training the scientists of tomorrow…or maybe the artists…doesn't matter, we need both! Suggestion: let them see how many drops of water they can get on a penny. All you need is a penny, a medicine dropper and water. Oh, and a very steady hand and table that doesn't shake. Then fill a jar with water (almost to the top) and predict how many pennies they can put in until the water overflows. Good lesson in surface tension and cohesion. You will need a steady hand, sturdy surface and a lot of pennies! I have some others, but no enough space.
Let's be honest, we're all secretly waiting for the hovercraft to be a bonafide mode of transport, but in the meantime why not try this Balloon Hovercraft experiment at home? Using just a balloon, a bottle cap and a CD, you'll be able to create a hovercraft that glides across the table to move, and with just 3 easy steps to follow, it's perfect for a quick at-home activity.
With just some basic materials you can create your own musical instrument to teach kids about sound waves. In this water xylophone experiment, you'll fill glass jars with varying levels of water. Once they're all lined up, kids can hit the sides with wooden sticks and see how the itch differs depending on how much water is in the jar (more water=lower pitch, less water=higher pitch). This is because sound waves travel differently depending on how full the jars are with water.
Science is a wonderful thing for kids! There is so much to learn and discover right around us. Many science concepts start in the kitchen with simple materials you already have on hand. Fill a plastic tote with easy to find supplies and you will have a homemade kids science kit filled with learning opportunities that are sure to keep them busy all year long!